Status:
Completed
Completed On:
Mar 2021
Start Date:
Jun 2020
Cost:
$6038
IT Clinical System at Dareda Kati Clinic
All records of patients that sought treatment at the Dareda Kati Clinic were manually maintained in 32 different record books, a process which was not only time consuming, but also error prone to gather and analyze data. To reduce the manual work and enhance the accuracy of the data, Karimu installed the first IT system in the district at Dareda Kati Clinic and trained the staff in its use.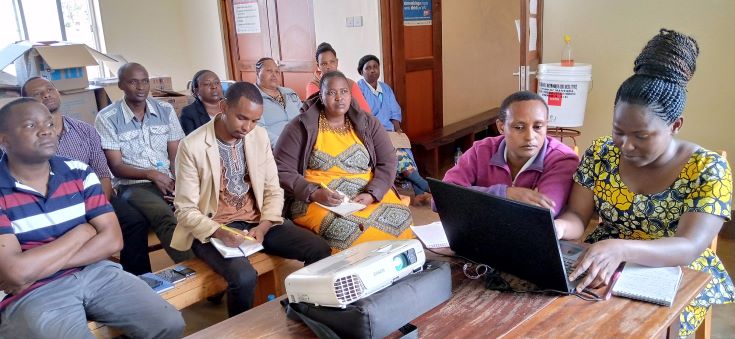 The government of Tanzania, hospital management information system (GoT-HoMIS) is an electronic information system, intended to collect and report facility level clinical information and support health facilities in service delivery management. Core functionality provides a laboratory information system, tracking inventory of medical supplies, billing and revenue collection, and reporting. When implemented, the system eliminates 98% of manual entry by clinicians of patient data.
The complete process has taken many months of evaluation and rollout including:
Developing a vendor questionnaire and engaging vendor to answer our technical and application questions for feasibility in our clinics

Negotiating prices and timing with vendor for software, training and hardware

Visiting Magugu clinic for an on site software demonstration of their implementation

Evaluating and selecting hardware vendors

Purchasing hardware

Installing the LAN

Building electrical components

Training clinical staff

Entering pharmacy medicine prices

Conducting systematic and phased roll-out of components

Managing system support
With the planned upgrade of the clinic to a health center, there will be more requirements for data reporting to the government. This IT system, in use at other health centers in the country, will improve health services to the patients, enhance the reporting to the government, and help us analyze the impact of our healthcare investments.
Expected benefits:
Eliminate manual journal entry of patients

Systematic collection and retention of patient history

More efficient tracking of patients, inventory and medicines

Enhanced reporting to the government

Improved analysis of healthcare initiative effectiveness
Delivered benefits:
Now that the IT system has been in place for several months and is fully rolled out we have found the following benefits
Improved trust from patients who receive a paper receipt for payments

Improved privacy and confidentiality of all patients

Reduced wait times for registration, medication dispensing, and cash receipts

Immediate access to historical patient data

Improved inventory management of medications

Increased revenue from visits, prescription medication, and labs

Improved computer skills by the staff
The manual reporting has not yet been eliminated as the Ministry of Health still requires some manual reports, but we are working with them and the local government to eliminate that requirement.
Cost: $6038
Learn more about Karimu Health Program .