Status:
Ongoing
Start Date:
May 2021
Cost:
2,000.00
Training on infant and newborn care
Poor sanitation practices and environments are known to be a major factor in infant illness. According to the World Health Organization diarrhoeal disease is the second leading cause of death in children under five years old. A significant proportion of diarrhoeal disease can be prevented through safe drinking-water and adequate sanitation and hygiene. World Vision International reports that 159 million children under 5 face stunted growth (short for their age) in which poor hygiene and sanitation causes about 15% of that stunting. Lack of sanitation, and particularly open defecation, contributes to the incidence of diarrhea and to the spread of intestinal parasites, which in turn cause malnutrition. In rural Tanzania livestock live among the family members leaving feces in the home site. Barefoot children care for livestock. Not all homes have sanitary latrines for adult and child use. Proper hand washing is still being incorporated into daily habits. And starting at age 5, children are responsible for caring for their younger siblings, including infants.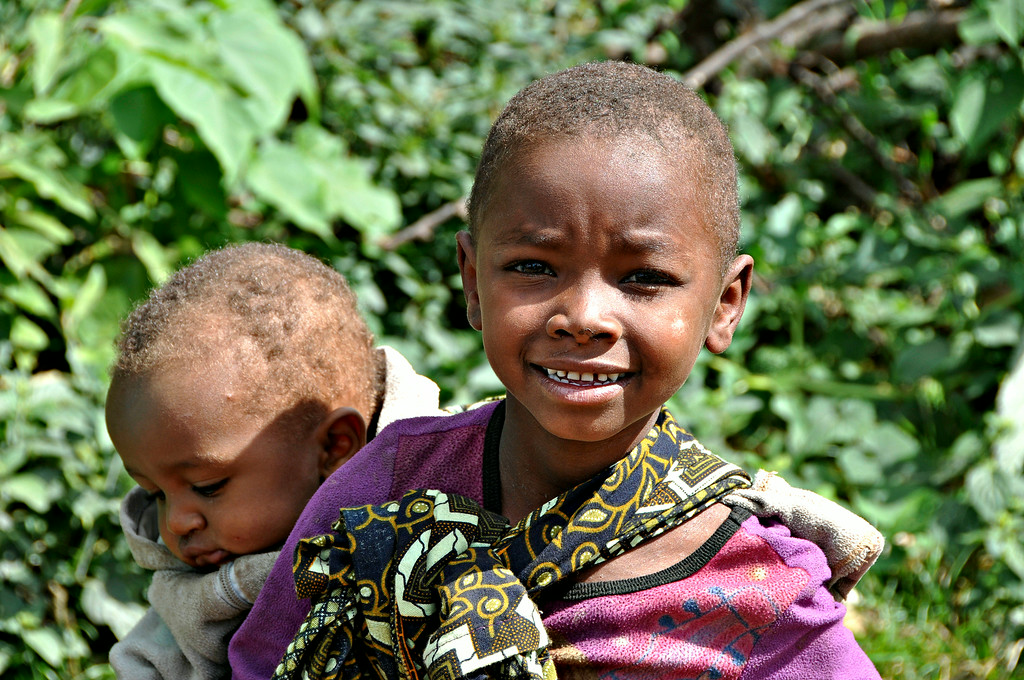 It is important that new mothers and children caring for siblings understand how to prevent disease transmission when caring for infants and toddlers. This health intervention intends to institute a systematic way of educating mothers and all children above 6 years old in caring for infants. Its specific approach will be:
Karimu
Develop targeted curriculum for each audience: new mothers and students (age appropriate) covering care for infants including how to clean ears, mouth, eyes, nose, and umbilical cord, sanitation practices for breast and bottle feeding, identification of skin rashes needing medical attention, identification of disease based on stool color, safe stool disposal, and safe play areas. All content is developed based on best practices from the World Health Organization, UNICEF, World Vision, Tanzanian Ministry of Health, United States Center for Disease Control, or other recognized expert sources. All content is reviewed and approved by the medical staff and the Tanzania Ministry of Health District Manager.
Deliver training to medical staff and teachers.
Develop flyers to be given to new mothers.
Monitor that the training at the schools and clinics is happening until such training becomes part of the regular training given to expectant mothers at the clinics.
Medical staff
Ensure that sufficient medical staff (enough to train new mothers) understand the infant cleaning and care curriculum and can train new mothers.
Implement a plan enabling clinics to deliver and track a mothers hygiene education to assure that all new mothers receive training.
Ensure that clinics are able to track and analyze relevant metrics regarding infant health to track progress and identify problems relating to infant disease.
New Mothers and Midwives
Receive in person training in infant cleaning and care
Students, Teachers, and Schools
Teachers receive training in the student curriculum.
Students receive annual training in infant cleaning and care, tailored to primary and secondary audiences.
School administration tracks and reports training.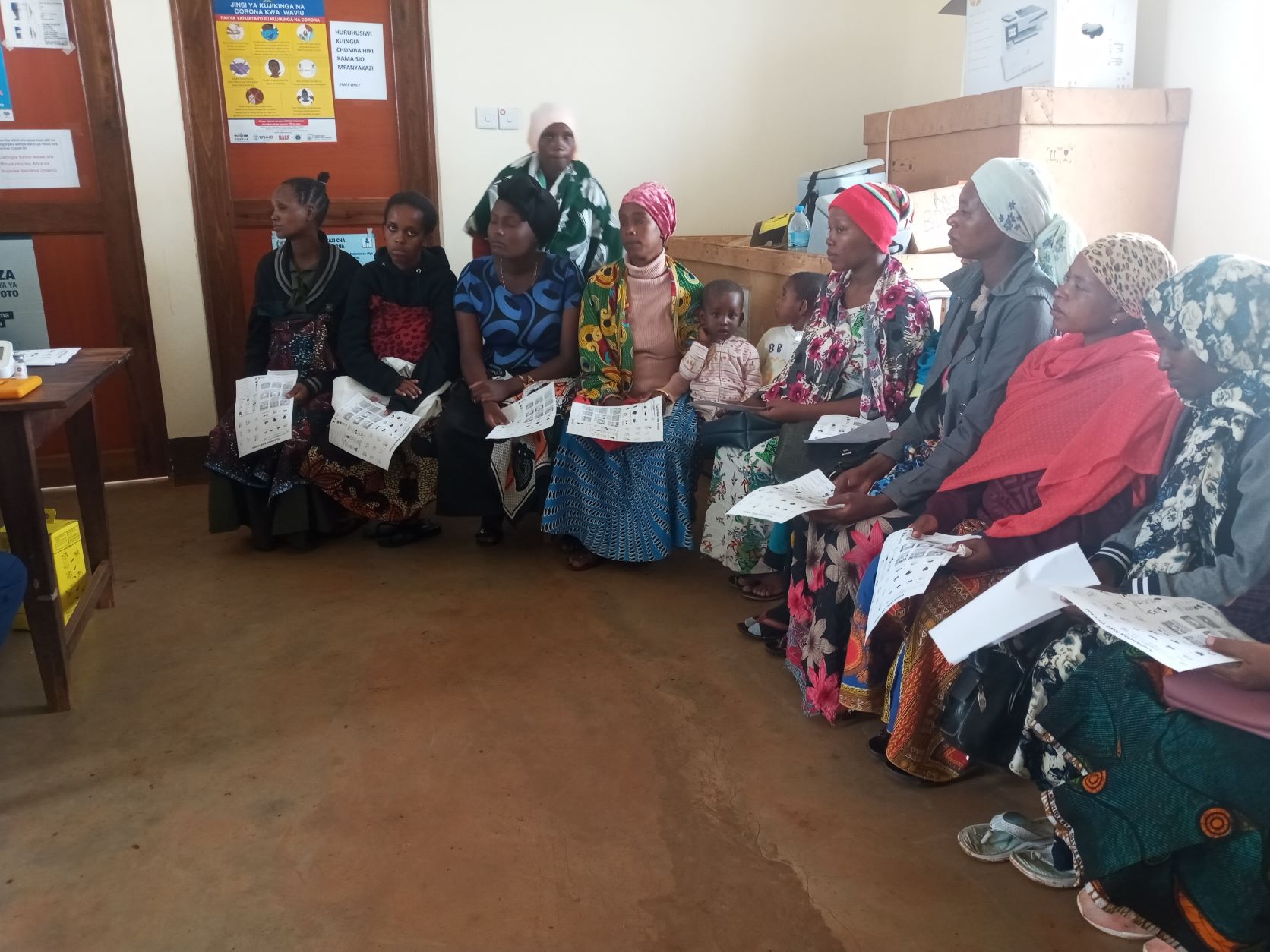 December 2022 Update: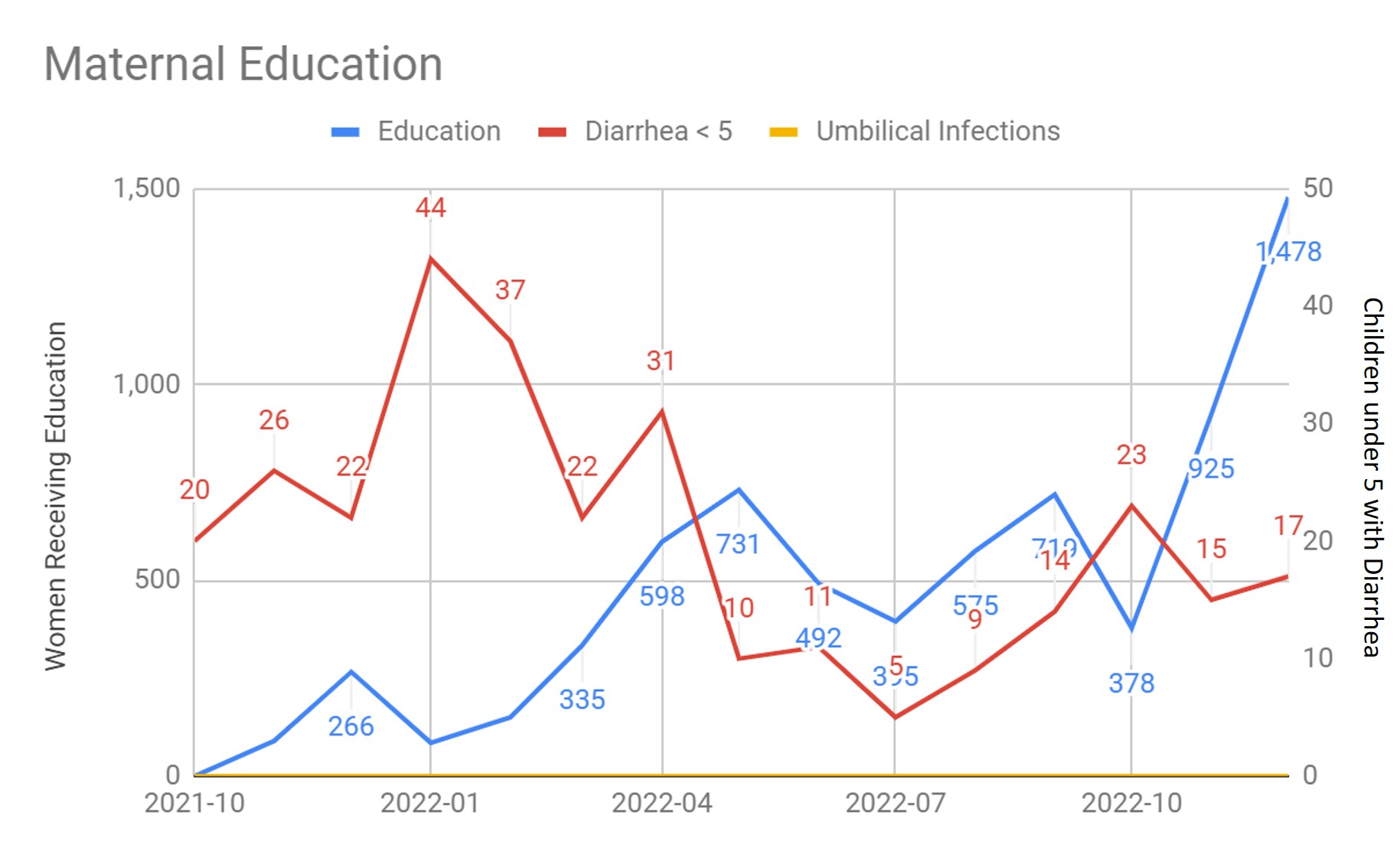 Training is rolling out across both Arri and Ayalagaya wards to pregnant women and mothers of young children. In the graph above you see the training in blue, the diagnosis of diarrhea in children under 5 in red and 0 umbilical infections in yellow. We cannot make a direct correlation between these metrics, but we hope the education is helping to lower the number of cases. We are interested in understanding if there is a seasonal increase in cases based on rains or on fruit dropping on the ground.
Success Metrics:
Reduce diarrhea of babies under 5 years old
Reduce umbilical cord infections for babies
Expected Benefits:
Learn more about Karimu Health Program.