Status:
Ongoing
Start Date:
May 2020
Cost:
$435
Health Videos in Clinics
Provide community health education in clinic waiting rooms
Community health education is an ongoing project that takes multiple forms in order to reach as many people as possible. Karimu and KAHESO organize and present classes, create training material for teachers to deliver in the classroom, provide public health announcements, broadcast audio announcements and distribute written informational flyers.
In May 2020, Karimu began providing health education inside the clinics by installing TVs in the waiting rooms that display health videos.The dispensaries are a central resource in their communities and are always busy. Particularly on vaccination days or other key campaign days, such as TB, hundreds of community members converge on the dispensaries and wait for vaccinations or treatments. Karimu has worked with the local medical teams to get their guidance on topics of highest value and also delivers information pertinent to the health interventions we are executing. The videos cover a range of topics and presentation formats. Karimu is curating content from the Tanzanian District for Public Health Education Forum, Tanzanian Ministry of Health, Tanzania Broadcasting Corporation, Arrive Alive project of South Africa, Medical Aid Films, Global Health Media, as well as content developed by Karimu. When professionally produced health information in Swahili is not already available we must make our own. Each Karimu-made video includes text, illustrations and voice-over content. It is written and reviewed by local medical staff and volunteer doctors for accuracy and cultural appropriateness, while illustrations and slides are produced to provide a visual learning component. Slide content and the text are translated to Swahili by the Karimu staff. Once the Swahili text is approved and finalized, a voice recording is made by a Karimu staff member. The final step of the production is to make the video presentation combining all the pieces.
This approach was used successfully to communicate Covid-19 information rapidly in early 2020. Custom videos included:
What is Covid and how is it transmitted?
Who is most at risk?
What are the symptoms?
What to do if you have the symptoms
Actions to prevent Covid-19 – Hand washing instructions
Actions to prevent Covid-19 – Social distancing and the importance of covering your face with a piece of cloth or a mask
Are there medications that can cure Coronavirus? Do antibiotics work? Is there a vaccine?
Pregnancy, nursing, breastfeeding and Covid-19
Money and phone cleaning and attention while shopping
Surface cleaning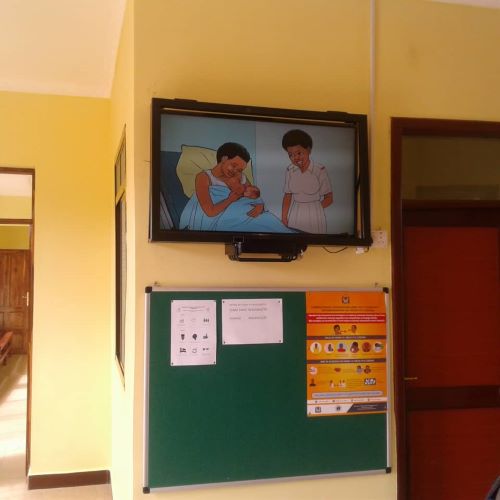 Current content includes:
Newborn infant care - Breastfeeding, umbilical cord care, infant care and stool cleaning, and the importance of postnatal visits
Family planning - The importance of family planning, birth intervals, postpartum counseling, conceiving after miscarriage
Food and nutrition - For pregnant women, infants, toddlers, and young children
Hygiene topics - Hand washing and building toilets
Diseases - Symptoms and prevention of Ebola, Cholera, Malaria, Diarrhea, COVID-19, Tuberculosis, Syphilis, HPV, Respiratory illness
Safety - Danger of driving tired
Expected benefits:
Improvement in community health care

Better understanding of disease prevention
Cost: $435
Learn more about the Karimu Health Program .